Specialists in medical malpractice
---
Our expertise means better service and exceptional results.
"Excellence separates you from the competition" — The American Registry
Experience you can trust
---
Our lawyers have successfully handled virtually every type of medical case.
"Expertise, experience, integrity" — LexisNexis
Laser-focused on client service
---
Our medical professionals are the best in the business.
"Superior qualifications, trial results, and leadership" — National Trial Lawyers
Tough and tenacious litigators
---
Our victories include both eight-figure verdicts and settlements.
"Dedication to excellence in the practice of law" — American Jurist Institute
Nationally recognized for excellence
---
Our lawyers have received virtually every award possible.
"Dedication to excellence in the practice of law" — American Jurist Institute
Specialists in medical malpractice
---
Our expertise means better service and exceptional results.

"Excellence separates you from the competition" — The American Registry

ATLANTA MEDICAL MALPRACTICE LAWYER
We Only Represent Medical Malpractice Victims
We are medical malpractice lawyers. It's all we do, all day, every day.
We are medical malpractice lawyers. It's all we do, all day, every day.

We have won more than $75,000,000 for our clients.

We obtained a $10,000,000 verdict after the defense offered $0.

 ATLANTA MEDICAL MALPRACTICE ATTORNEYS 
When the stakes are high, and when you can't afford to get it wrong,
choosing a medical malpractice attorney is always the right call.

WE HANDLE ALL TYPES OF MEDICAL MALPRACTICE CASES
As medical malpractice lawyers, we spend all day, every day, working with medical malpractice victims; there's not much we haven't seen. Below are just some of the types of cases we routinely handle.
Don't wait. Contact the best Atlanta medical malpractice lawyers now.

We are a medical malpractice law firm in Atlanta with a track record of successful results and happy clients.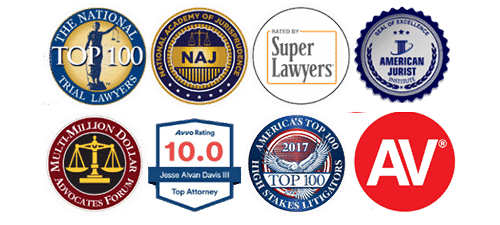 I could not have asked for better representation with my case than what I received from Davis Adams LLC. I am doing well and continue to work and stay busy!
 Davis Adams is an awesome law firm that gets great results. Jess Davis and Chad Adams are excellent attorneys who go all out for their clients.
 Davis Adams are great lawyers and passionate about helping their clients. I highly recommend Davis-Adams.
 These guys are great. I am a fellow attorney, and we often refer cases, and they have always done an excellent job. Great people as well. I wouldn't hesitate to use them for any matter.
 Jess and Chad are organized, thoughtful, and caring professionals, and experts in the medical malpractice cases
 Everyone has spoke highly of their professionalism. Jess and Chad are great lawyers who do a great job for their clients!
 The Davis Adams team are thoughtful, dedicated, precise, and tenacious.
 Great firm and very knowledgeable!!!
 I wholeheartedly endorse this firm. They are experienced and effective lawyers.

FREQUENTLY ASKED QUESTIONS
What is Medical Malpractice?
Medical malpractice occurs when a healthcare provider is negligent (i.e., fails to meet the "standard of care"). Thus, negligent medical care is medical malpractice.
For example, if a nurse negligently places an IV in a patient's arm, the nurse has committed medical malpractice. Virtually any type of healthcare provider can commit medical malpractice — doctors, nurses, pharmacists, etc.
If you think you or a loved one may have been the victim of medical malpractice, it's important to have a medical malpractice law firm review your potential claim. The Atlanta medical malpractice lawyers at Davis Adams not only provide an unmatched level of client service, but we'll review your case at no charge and with no obligation.
What does "the standard of care" mean?
The standard of care is simply the level of care the medical community agrees is required in a particular situation. 
For example, a pharmacist must put the correct pills in a pill bottle when filling a prescription. If the prescription is for Coumadin (a blood thinner), but the pharmacist fills the bottle with Dilaudid (a powerful pain medication), the pharmacist is negligent — no reasonable person would argue otherwise. But the answer isn't always so clear. Let's say a patient is taken to an ER with mild chest and shoulder pain after lifting weights at a gym. Vital signs appear normal, and the patient reports that he thinks he sustained a muscle injury while exercising. Does the standard of care require this patient to be worked up (including sometimes expensive medical tests) for a potential heart attack? The answer here is far less obvious than with the pharmacist example above. 
Some doctors may say yes, a heart attack must be considered as part of a "differential diagnosis" and ruled out before the patient is discharged. But other doctors may say that a heart attack in this situation is so unlikely that it need not be considered and ruled out before the patient is discharged. Who's right? Ultimately, if a lawsuit is filed and can't be settled before trial, the jury will hear testimony from expert witnesses testifying for the plaintiff patient and the defendant doctor, and the jurors will decide who they believe is right about what the standard of care required.
The difference between winning and losing a medical malpractice trial often comes down to who can present the most compelling expert witnesses at trial. Thus, it's essential for medical negligence victims to hire a medical malpractice law firm with access and connections to the best doctors at the most prestigious hospitals in the United States. Davis Adams maintains close relationships with medical providers in virtually all fields, and can often begin discussing your case with these accomplished physicians within 24 hours of your contacting our firm.
Who can I sue for medical malpractice?
You can sue virtually any healthcare provider for medical malpractice, including, but not limited, to, doctors (MD and DO), physicians' assistants (PA), licensed practical nurses (LPN), registered nurses (RN), nurse practitioners (NP), clinical nurse specialists (CN), chiropractors, podiatrists, certified nursing assistants, physical therapists, phlebotomists, certified nurse midwives (CNM), and pharmacists.
What are the most common types of medical malpractice cases?
Medical malpractice law firm cases can take almost any form. For every type of healthcare available, there's a way to do it wrong, or negligently. So while it's hard to say which types of cases are "most common," here are some examples of malpractice handled by the Atlanta medical malpractice lawyers at Davis Adams:
Delay in treating bacterial infections, such as meningitis and necrotizing fasciitis
Negligent nursing care leading to bedsores and pressure injuries
Pharmacy negligence, including prescription errors
IV errors, including infiltration and extravasation
Failure to recognize and treat sepsis
Failure to order needed diagnostic medical tests
Misreading or ignoring laboratory results
Improper medication or dosage
Surgical errors or wrong site surgery
Poor follow-up or aftercare
Nursing home negligence or abuse
Preventable falls in hospitals and nursing homes
Emergency room errors
Of course, these are just some of the cases we handle. More are listed here on our website. If you don't see your type of cases listed, don't worry, we've almost certainly handled similar cases before.
Can any personal injury lawyer handle my medical malpractice case?
In a word: no. Not even close. That's a little like saying, "I need brain surgery, can't I just call any doctor?" If you needed brain surgery, you'd find the very best brain surgeon — someone who specializes in brain surgery, who does it all day, every day, someone who has a long track record of success, and someone who stays on the cutting edge of any relevant developments. You certainly wouldn't call a foot doctor, but you also wouldn't look for a physician who occasionally performs brain surgery, but not often. You need an expert with laser-sharp focus.
Many personal injury lawyers — including those who advertise heavily on television and billboards — claim to handle medical malpractice cases . . . along with car wrecks, trucking accidents, slips and falls, worker's compensation, and many others. You have one chance to make the right decision to hire a medical malpractice attorney that can handle the case, thus, we'd suggest asking the following questions of anyone you're considering hiring:
Do you specialize as medical malpractice lawyer or do you also handle other types of cases?
If you handle other types of cases also, what percentage of your firm's cases are medical malpractice?
How many medical malpractice cases have you handled in the past, and how many are you handling right now?
Can you tell me about cases similar to mine that you've successfully handled?
Can I have the personal cell phone number of the lawyer handling my case?
When you've asked these questions, and listened to the answers, you'll find that very few — if any — other law firms are able to honestly provide good answers. Because the reality is that most personal injury law firms mainly handle other types of cases, and just do some medical malpractice work on the side. But at Davis Adams' medical malpractice law firm, medical malpractice cases are always the primary focus.
What's the difference between medical malpractice and wrongful death?
A medical malpractice claim becomes a wrongful death claim when medical negligence results in a death. At that point, the decedent's estate can pursue a claim for final expenses and pain and suffering, while the decedent's heirs (children, parents, siblings, etc.) can pursue a claim (as part of the same case) for the "full value" of the decedent's life.
What should I do if I suspect medical malpractice?
If you suspect that you or a loved one has fallen victim to medical malpractice, your first course of action should be to contact an experienced Atlanta medical malpractice lawyer. A comprehensive review of the case information consisting of anything from gathering relevant medical records to interviewing the client and loved ones needs to be carried out by the medical malpractice attorney to establish whether the case is actionable.
The Atlanta medical malpractice lawyers at Davis Adams are not afraid to take action against hospitals, doctors, pharmacists, clinics, surgeons, nurses, and other healthcare professionals whose negligence has caused injury to their patients. We do anything in our power to secure the optimum settlement our clients require and are worthy of to cover injury-related expenses.
What are the elements of a medical malpractice lawsuit?
To win a medical malpractice case we have to prove the following evidence: duty, breach, causation and damages.
Duty: We essentially have to show that the medical provider had an obligation to render care in accordance with the applicable standard of care. This is rarely a contested element of a claim. For example, if you visit your family physician or an ER, there's generally no good argument that the nurses or physicians who care for you don't have a duty to meet the requisite standard of care.
Breach: We have to show that the standard of care wasn't met. It's our burden, as the plaintiff, to establish that the healthcare provider simply didn't meet their obligation to provide appropriate care. This is typically done by calling expert witnesses who can define the standard of care, and then demonstrating through medical records and testimony that the defendant provider failed to comply with the standard.
Causation and Damages: An important, and often overlooked, element of a viable medical malpractice claim is what's known as causation. It's probably best explained by example. Let's say that the standard of care required an oncologist to give a certain regime of chemotherapy for an aggressive form of liver cancer. And assume that the oncologist failed to give the appropriate chemotherapy regime. Well, in this instance there'd be no good argument that the doctor didn't breach his duty to the patient, right? But what about causation? Let's assume that the patient had a 90% chance of dying even if the chemotherapy had been properly administered. Do we still have a valid wrongful death claim related to the doctor's medical negligence? No, because we can't prove that the patient's death was caused by the doctor's negligence — the patient was, far more likely than not, going to pass away even but for the doctor's mistake. Thus, we always have to prove that the provider's negligence (more likely than not) caused the injury (or damages) we're alleging in our lawsuit.
Also, related to the issue of damages, most viable medical malpractice cases require a substantial injury. Unfortunately, the Georgia state legislature, big insurance companies, and hospitals have all worked together to ensure that trying to hold any healthcare provider responsible for medical malpractice is extremely difficult and expensive. For example, is a doctor's negligence results in a patient having to stay in a hospital for an additional week, but the patient is otherwise fine, that's probably insufficient damages over which to sue. However, anytime a patient sustains a severe injury at the hands of a healthcare provider, it's worth consulting with a qualified Atlanta medical malpractice attorney.
Are all medical mistakes medical malpractice?
Generally, if a healthcare provider makes a "mistake," that's what we'd call a deviation from the standard of care, which normally constitutes medical negligence. But doctors rarely agree that they've made a mistake, rather, more commonly they'll say that what we call a mistake is really just a "known complication" or an "accepted risk" of the procedure.
How much will it cost to have your firm represent me?
Our firm, like all reputable medical malpractice law firms, operates on a contingency model. That is, if we recover money for our client, we earn a percentage. And if we don't, not only are we not paid for our work, but we also do not charge the client for any of the expenses associated with our representation, which often total tens of thousands of dollars, and sometimes hundreds of thousands of dollars.
Will my medical malpractice case settle out of court?
The vast majority of medical malpractice cases settle before trial. However, all cases must be prepared for trial from day one — because we never know which cases will end up in a courtroom before a jury. Thus, from the start, our medical malpractice law firm begins building the case with trial preparation in mind, which puts our client in the strongest position for pre-trial settlement negotiation, and which ensures we're ready to take our case to a jury if we can't reach a negotiated resolution.
My doctor made a mistake and admitted it. Will I win my case?
Maybe, but not necessarily. First, doctors sometimes "admit" mistakes to patients, but then change their story by the time a lawsuit is filed and they're testifying at their deposition or at trial. Other times, what a patient hears as an admission of fault may really just be an expression of remorse. For example, "I'm so sorry the outcome wasn't better, I wish this complication hadn't happened."
Further, even when a doctor does express regret, Georgia law severely restricts a medical malpractice victim's ability to use the doctor's words at trial. OCGA § 24-3-37.1 states:
"In any claim or civil action brought by or on behalf of a patient allegedly experiencing an unanticipated outcome of medical care, any and all statements, affirmations, gestures, activities, or conduct expressing benevolence, regret, apology, sympathy, commiseration, condolence, compassion, mistake, error, or a general sense of benevolence which are made by a health care provider or an employee or agent of a health care provider to the patient, a relative of the patient, or a representative of the patient and which relate to the unanticipated outcome shall be inadmissible as evidence and shall not constitute an admission of liability or an admission against interest."
Occasionally, but very rarely, we'll see cases where a doctor candidly tells a patient that an avoidable mistake occurred. Those cases tend to settle quickly. But most often when any doctor offers what may sound like an apology, it's not as helpful for your case as you might otherwise think.
How long will my medical malpractice case take?
Every case is different. Some take a few months, and some take a few years. As a general rule, we tell our clients that their case will likely settle, or go to trial, within 24 months of our firm being hired.
Can I still file a lawsuit if I signed an informed consent form?
Yes, absolutely. As an initial matter, the American Medical Association describes proper informed consent as much more than a physician simply handing a patient a stack of forms to sign before a procedure is performed. Rather, the patient and physician must have a clear and meaningful conversation about the nature of the procedure, the risks and benefits, and any alternatives. Yet this often doesn't happen.
But even when informed consent is properly obtained, the patient's consent for the procedure never excuses a healthcare provider's negligence. Informed consent is simply an acknowledgement by the patient that even if the provider complies with all standards of care (that is, acts non negligently), sometimes complications and bad outcomes can still happen. But when a doctor, nurse, or any other providers of medical services commits medical malpractice, they can't dodge legal responsibility by pointing to the consent form. A patient never consents to a doctor's negligence.
Can I still find out if my doctor has ever been sued before?

We do one thing, and our laser-sharp focus on medical negligence cases means we do it better than anyone else.
When it comes to medical malpractice cases in the State of Georgia, we've seen it all. We're happy to answer your questions and share our experiences.
Davis Adams is the go-to Medical Malpractice Attorney in Atlanta and a great resource for medical malpractice information.
The attorneys at Davis Adams are regularly called upon by the media for comment on complex or high profile legal matters. You're in great hands.