Given Wrong Prescription Compensation
Given Wrong Prescription Compensation
What recourse do you have and what compensation can you expect if you are given the wrong prescription? Our expert attorneys explain.
DAVIS ADAMS | LAWYERS FOR COMPLEX MEDICAL CASES
WE'RE HERE FOR YOU 24 HOURS A DAY, 7 DAYS A WEEK.
CONTACT US NOW
free consultation
The Most Awarded Medical Malpractice Attorneys in Georgia
Mr. Davis is an accomplished medical malpractice attorney in Atlanta, Georgia. He has received virtually every award and honor available to Georgia trial attorneys. He is one of the foremost experts on medical malpractice law in Georgia. Published on April 02, 2020, last updated on April 25, 2020.
If you are given wrong prescription compensation is a necessary method to regain some level of normalcy in your life. Whether it is financial assistance dealing with your side effects or ongoing medical attention for a more severe response, retaining legal counsel to alleviate your issue and advocate for your recovery is vital.
Receiving incorrect medication can cause ravaging damages and lead to crippling medical expenses that can be exceptionally challenging to settle alone. A client who has actually gotten the incorrect prescription as the repercussion of medical malpractice due to a physician or other medical practitioner should pursue the aid of a knowledgeable Atlanta lawyer who can assist you in the recuperation of your damages. This could permit you the ability to live as you had before the event.
According to a federal study, practically 120-million U.S. citizens use prescription drugs. With so many drugs being given, errors are bound to take place. In some cases, patients suffer entirely preventable injuries as a result. If you were given wrong prescription compensation is available. Consult with a lawyer at Davis Adams to go over whether you can take legal action against the physician or pharmacist who provided the medication.
Contact Us Today for More Information on Wrong Prescription Compensation
With Davis Adams, you are getting the absolute best malpractice firm in the state of Georgia. Partners Jess Davis and Chad Adams have received virtually every award and honor available to trial attorneys in the state.
Can You Sue a Pharmacy for Giving You the Wrong Prescription?
Help with Finding Medical Malpractice Attorney Near You
We've fought for clients in every type of medical negligence case there is. Our record speaks for itself, tens of millions of dollars recovered in verdicts and settlements. Before it's too late, let's discuss your options.
If you feel like you received improper medication or the wrong dosage, you may wonder, "can you sue a pharmacy for giving you the wrong prescription?"
Drug stores can make numerous mistakes, including the following:
Getting the right prescription but offering the incorrect medication or incorrect dose
Providing you with another person's prescription
Any time the pharmacy does not take due diligence, you can sue the company or their insurance for your injuries. When you are given wrong prescription compensation is due.
If the Dosage Is Inappropriate for a Client, Who Is Responsible?
If the dosage is inappropriate for a client, who is responsible? Drug stores, like medical professionals, do not like to confess when they make errors, so you may require an attorney to do a little digging to discover what error was made and who caused your personal injury. 
Usually, you can take legal action against the pharmacist or the pharmacy, or both. With the high volume of prescription drugs that they manage, drug stores make thousands of mistakes per year. Hiring a law firm adept in prescription medication errors helps settle the legal issue.
Wrong Medication Lawsuit Settlement
There are many situations in which a wrong medication lawsuit settlement might be a necessary resolution. Medical errors take place when a physician, nurse, or doctor provides either the incorrect medication or the wrong dose.
In some cases, the damages that a client withstands from getting the incorrect medication are few. Other times, a client experiences extreme physical and psychological injuries that can be even worse than the initial condition the drug had been meant to deal with. 
The effects of being administered the incorrect dose or drug can likewise result in serious damages that might need costly surgical treatments, and in severe cases, can even lead to death. These include:
Emotional distress
Loss of income from missed work
Medication errors
Pain and suffering
If you were given wrong prescription compensation, or if you wish to recover damages for emergency room malpractice or another medical issue, contact a reputable law firm.
What Should You Do if You're Given the Wrong Prescription?
Even with the best intentions, mistakes happen and sometimes people are given the wrong prescription. Medication mistakes can happen at any phase of the treatment procedure, whether it is from an over-the-counter (OTC) drug store, or from being administered the inaccurate dose in an emergency clinic. 
The following include some common medication administration errors.
Adverse allergic reaction to the medication
Illegible penmanship on the prescription
Incorrect dosage of medication in the ER
Mislabeled bottles
A physician prescribes the wrong medication
Undisclosed potential side effects
When you need compensation for being given wrong prescription, it is wise to retain the services of local attorneys like Chad Adams or Jess Davis to assist in your case.
Multiple Verdicts and Settlements in the Millions
Pharmacy Gave Wrong Prescription
Contact Medical Malpractice Attorneys Nearby Today
If the pharmacy gave wrong prescription, you should seek settlement for physical and emotional distress, financial compensation for future, subsequent treatments, and any money lost from missed work.
What to Do When Pharmacy Gives Wrong Prescription?
Many people wonder what to do when their pharmacy gives the wrong prescription. The first step if you have just noticed that you have the wrong medication or have taken the wrong medication is to seek medical attention. 
Later on, you may want to seek compensation for suffering caused by the prescription mix up. However, some prescription mistakes do not actually trigger significant injuries, so bringing a claim is not always the best strategy. Talk about your given wrong prescription compensation alternatives with your attorney.
Bringing a Prescription Lawsuit
Before bringing a prescription lawsuit, you should check your case against the following items:
The person who provided the medication was a professional who owed you a duty of care.
That person failed to use sufficient care.
You suffered an injury due to medical negligence.
The wrong prescription caused your injury.
Since these are complex issues to analyze and assess, it is best to consult with a law firm to discuss your situation.
CVS Lawsuit Wrong Prescription: Can You Sue?
Even a big chain like CVS can face a lawsuit for giving the wrong prescription. In one such case, seen here, a Mississippi male submitted a federal suit implicating a CVS Drug store of filling his prescription with the incorrect medication a minimum of two times. The quantity of damage sought was for more than $75,000, which was the minimum amount required to submit in U.S. District Court. 
The suit against CVS was against the nationwide CVS Drug store Inc., headquartered in Woonsocket, Rhode Island.
Retain a Medical Malpractice Attorney
If you seek a given wrong prescription compensation, you should retain a medical malpractice lawyer. Medication mistakes can have hazardous repercussions and should not be ignored. At any time a physician does not measure up to his or her code of principles and breaches the Medical Standard of Care, that expert needs to be held accountable for their actions. A lawyer who has experience in medical malpractice cases can assist you through the complex process of identifying whether your healthcare supplier breached this Standard of Care.
Avoiding medication mistakes is a big duty. Unfortunately, errors with medication are often triggered by underlying issues in the system like similar labels, complicated devices, and bad handwriting. When dealing with an incorrectly prescribed or administered medication, you should contact us at Davis Adams for compensation.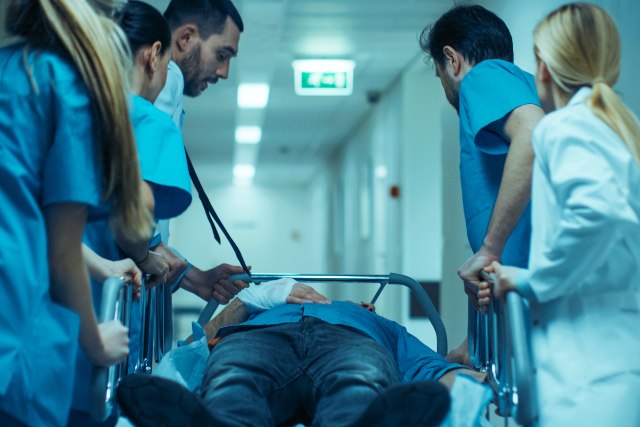 Top Medical Malpractice Attorney Near You